Just bear with the summer heat for a little while longer because Otsukimi, or the Mid-Autumn Festival, is right around the corner. Along with it, some special limited-time foods are also released around many Japanese restaurants and fast food franchises to celebrate the season. Although it might be a bit early, let's look back on popular Tsukimi foods Japanese people love to enjoy on this occasion in previous years!
Tsukimi in Japan not only refers to the traditional moon viewing festival in September, it is also a special term used in Japanese cuisine to describe a cracked egg being added to a dish. With Japanese people's creativity and love for seasonal food, many kinds of Tsukimi-based foods, from traditional to Western style tsukimi dishes, are available to suit anyone's taste.
Raw Egg Dishes
Because the shape and yellow color of the egg yolk resembles the image of the brightest full moon, eating food with round shapes is considered to bring good luck to the person enjoying it in this season.
Some noodle restaurants in Japan will serve Tsukimi Soba (thin buckwheat noodles) and Tsukimi Udon (thick wheat noodles), both with a raw egg. It's made by topping soba noodles or udon with a raw egg and finely chopped green onions. Japanese mountain yam or vegetables like okra can also be added, and the broth usually consists of dashi (Japanese soup stock), soy sauce, sake and mirin (Japanese cooking wine).
Want to stick to more traditional foods? Check out this blog about traditional Tsukimi foods!
Tsukimi-themed Fast Food
In Japanese fast food chains, the Tsukimi theme also applies to their seasonal fall menus, and Japanese people love the combination of traditional and modern food styles!
Looking for a fun treat to embrace the coming fall season? TokyoTreats has everything you need! TokyoTreat delivers the best Japanese snacks, drinks, and sweets right from Japan to your door every month, so you can have a memorable moon viewing time at home with your friends and family!
McDonald's
When it comes to Tsukimi-themed food, there is no fast food chain that can beat McDonald's Tsukimi collection. Last year, McDonald's introduced the Tsukimi Family with their Tsukimi Burger as the main star, along with the Cheese Tsukimi and the Tsukimi Muffin, which was only available on the morning menu. There was also a special edition of Rich Melty Tsukimi with scrambled eggs, cheese sauce, and buns made with cheese.
Even the French fries had a limited edition version named Yuzu Shichimi Mayo, which was said to be specially designed to taste well with the Tsukimi burger. So, we might expect some special French fries to complement this year's Tsukimi burger as well!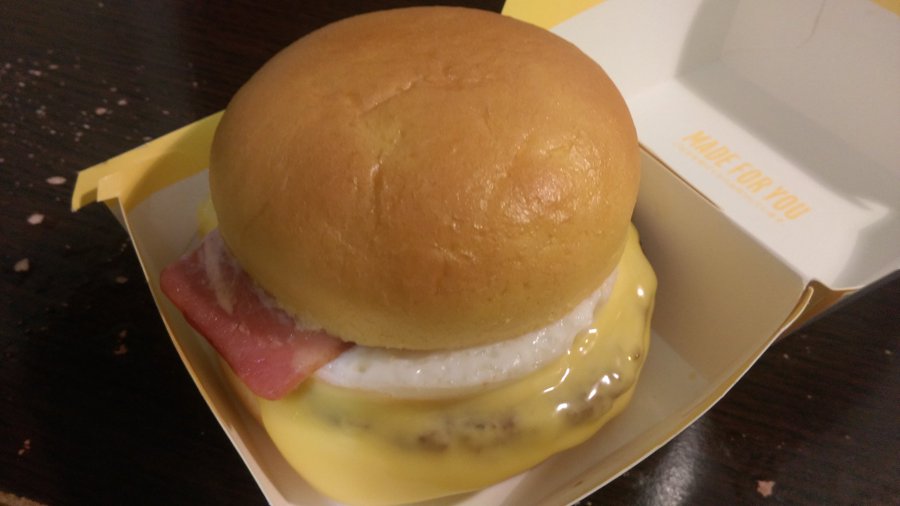 As usual, Tsukimi Pie is always a staple on McDonald's sweet menu, combining red bean and sticky mochi inside the crispy pie crust. The Tsukimi Mcflurry, as always, also made a splash with 3 flavors: warabi mochi (bracken starch mochi), kuromitsu (brown sugar), and crushed cone with kinako (roasted soybean flour).
Last, the Tsukimi McShake, containing wasabon (refined Japanese sugar) and kinako, made its debut last year, and everyone expects it to come back this year!
KFC Japan
Although KFC's Tsukimi foods may lack variety compared to that of McDonald's, KFC's Tsukimi fried chicken sandwiches still managed to win our heart with its awesome taste.
There are 2 types of sandwiches for this season: the Melty Tsukimi Japanese-Style Chicken Filet Sandwich and the Western version of it. Along with KFC's 11 herbs and spices, the difference lies in the sauce used for the chicken cutlet and the veggies.
In the Wafuu (Japanese-style) version, the deep-fried cutlet is flavored with teriyaki sauce, topped with fried egg and shredded cabbage, and finished with mayonnaise. On the other hand, the Western version replaces the teriyaki sauce with olive oil and uses lettuce instead of cabbage.
Domino's Pizza
Pizza is definitely a perfectly right choice for any party, and Domino's Pizza also has a selected menu for the Tsukimi season.
The Tsukimi Creamy Egg and Bacon pizza is a simple combination of Hokkaido white sauce, mayonnaise, and parsley together with sausage, smoked bacon, and sliced eggs. The other one is the Tsukimi Teriyaki Chicken Tamago (egg) which is topped with Camembert cheese, teriyaki chicken, spinach, mayonnaise, and sliced boiled eggs.
If you're looking for a convenient and tasty party treat in the fall, a Tsukimi-themed pizza from Domino's is the most ideal since you can easily share it with your friends without hustling for the preparation part!
Krispy Kreme
In 2020, Krispy Kreme released the premium Tsukimi doughnut exclusively in its Takashimaya Department Store branch in Nagoya.
While other Tsukimi foods usually use egg or sticky rice cake to represent the moon, Krispy Kreme's special Tsukimi-inspired doughnut is just on another level. Whipped cream was used to recreate the image of a lovely rabbit – the first inhabitant of the moon, according to ancient Asian myths – and chestnut cream was used as the donut filling. A chocolate layer was coated on the outside to represent the night sky surrounding the rabbit moon.
If such an adorable Tsukimi doughnut was made available nationwide, we bet Krispy Kreme would be flooded with long lines of people everyday during the autumn festival time period!
What Tsukimi foods or snacks would you love to try? Share your thoughts with us in the comments below!