Hanami - Japan's Biggest Party In The Park!
Sakura (or cherry blossom) season is fast approaching! Soon Japan's parks are going to become a beautiful pink color! It's something Japanese people look forward to all year and parks are full of people celebrating the spring!
Every year parks are full of people eating, drinking, partying and having a good time under the sakura! This tradition is called Hanami, or flower viewing. But how did the tradition of partying under sakura start? Let's explore Japan's favorite past time, Hanami!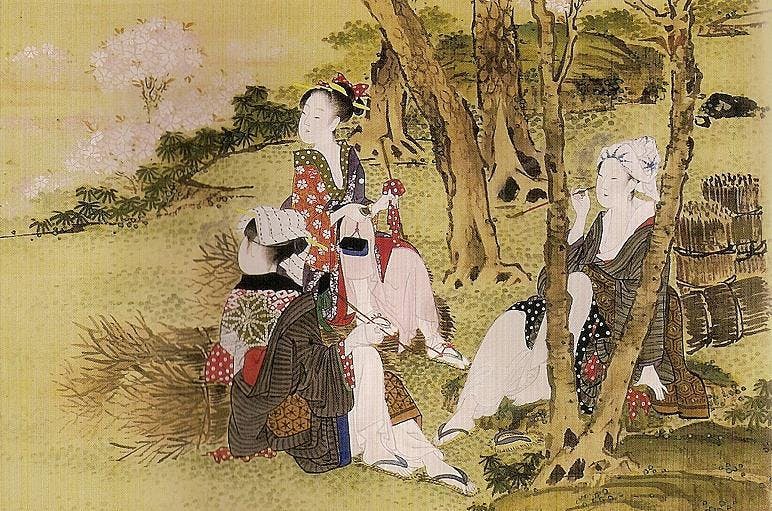 Originally Hanami was not open to everyone. When Japan's imperial court was first founded in the 700's in Nara, the ruling classes would come to learn of the Chinese past time of watching the plum blossoms bloom. Aristocrats built elaborate gardens and planted all kinds of flowers, but the most popular were cherry blossoms, due to their beautiful color.
Over time, Hanami became associated with cherry blossoms. The ruling classes and people in power would enjoy watching the new sakura blossom every year with food and drink, and gradually it became a practice that samurai would enjoy as a way to appear more cultured.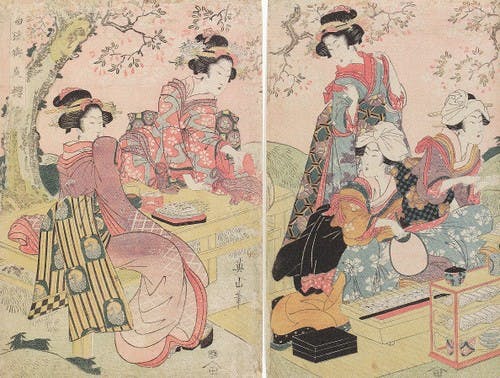 In 1603, after Hanami had almost 900 years of history in Japan and had become a symbol of elite culture, it was finally open to the public! Cherry blossom trees were planted in a religious center in old Tokyo (that in modern times became Ueno Park in Tokyo). And the tradition began to spread all across Japan, moving to parks, shrines and common spaces! And people went flocking to the hottest viewing spots to enjoy the beautiful springtime scenery.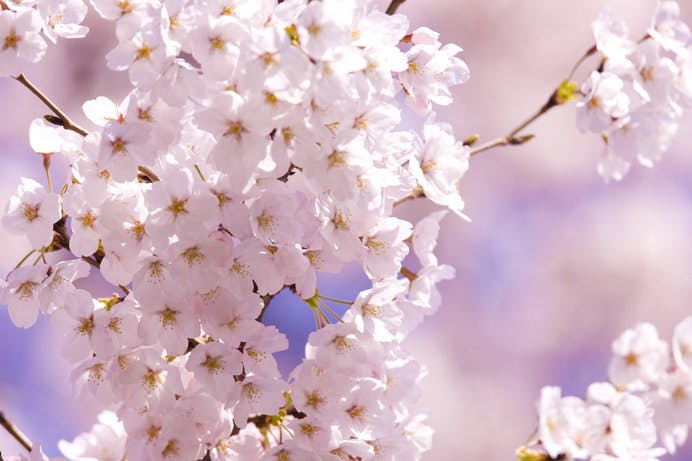 Once newspapers became more common in the late 1800's and early 1900's, they often began to share news about sakura, like a forecast on when it will bloom and share information for the best viewing spots. And, with more discoveries in flower breeding techniques, some botanical gardens engineered ways to make Hanami last all month, not just a few weeks.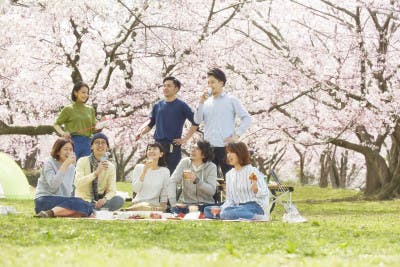 So, what is a modern Hanami party like? Thanks to convenience stores and food delivery apps (which even deliver to parks), parties are getting more and more interesting every year! People are eating and drinking with their friends, family and coworkers all day long! Sometimes you can even find big parties with music in larger parks. And of course there are smaller Hanami hot spots for more relaxed seasonal fun!  
This Month's Box
This month, we're all about enjoying the beautiful Japanese Sakura! We love watching sakura, smelling sakura, eating sakura… Wait what? 
That's right! Sakura is a super tasty traditional Japanese ingredient in cooking. So we put together a host of delicious sakura snacks for you to have your own Hanami party! Will you join us for 'Sakura Snacktime'!?
Want your photo to be featured in our monthly booklet or on social media? Tag us on social media at #tokyotreat and maybe you'll see your photo in our next booklet! As usual we will also have an awesome photo contest with unique Japanese prizes and a FREE snack box so stay tuned for that!
As a big thank you to our subscribers we always give away a big Lucky Treat prize which is filled with over $500 worth of goodies! If you want a chance to win, make sure to join the fam!