Japanese fruit sandwiches, or furuutsu sando (フルーツサンド), are a popular, easily recognizable part of Japanese convenience store culture, and recently, they have seen a gourmet boom. Shops serve various varieties using different Japanese fruit sandwich recipes, from vegan fruit sandwiches to fruit sandwiches containing whole mangoes, and costing upwards of $10 per half sandwich. 
Just what is all the fuss about? And what is the secret to its deliciousness? Let's find out and learn a Japanese fruit sandwich recipe.
Japanese Fruit Sando
What is a Fruit Sandwich?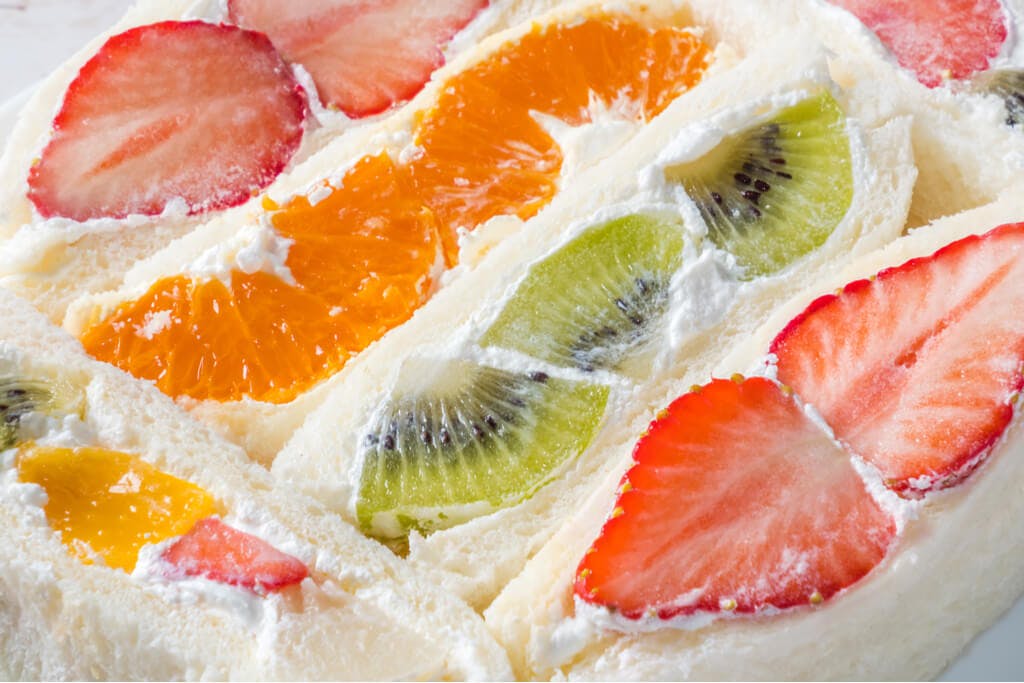 Image via Shutterstock
A fruit sandwich is a sandwich made with fruit placed between bread that is spread with sweet whipped cream. The delightful symmetry of having whole fruit between two slices of fluffy white bread - in Japan, this bread is actually Japanese milk bread AKA shokupan - makes for a beautifully Instagrammable snack. And with Instagram more popular than ever before, it's easy to see why fruit sandwiches have come back into fashion. 
The exact origins of Japanese fruit sandwiches are unknown, but there are two main theories. The first is that they were invented in 1869 by a Kyoto street food fruit vendor, 'Yaoiso.' It is said that they were originally developed as a way to preserve and use up ripe fruit. 
The other school of thought claims that Senbikiya, a popular Japanese fruit parlor which opened in 1868, invented the fruit sandwich. Neither story is proven but both fruit shops have a long history and are famed for their fruit sandwiches. 
Either way, Japanese fruit sandwiches have a surprisingly long history. 
Head into any convenience store and you'll spot fruit sandwiches alongside egg salad sandwiches, potato salad sandwiches, and more, a commonplace in any chilled section. Recent times have seen a surge in furuutsu-sando senmon-ten (fruit sandwich specialty shops フルーツサンド専門店) in big cities, often packed to the rafters with lines running out of the shop. 
Fruit sandwiches make the most of the fruits of the season by picking the ripest fruits with the most symmetrical shapes to create that perfect silhouette of colorful fruit slices among the bright white whipped cream. Gourmet varieties include: shine muscat grape fruit sandwiches, Yubari melon sandwiches, peach sandwiches, and more. There are plenty of luxurious Japanese fruits you can use as well, like white strawberry or Japanese persimmon.
It is common to see a mix of fruits, too, for example strawberries and blueberries together with the blue and red creating a perfect color combination designed for the 'gram.
If you aren't in Japan, or even if you are and would just like to make your own, we've designed a recipe which is perfect for those who'd like to recreate the beauty and sweetness of a fruit sandwich themselves, at home. 
Looking for more Instagrammable Japanese treats like Japanese Kit Kats or Japan-exclusive Fanta? Then check out TokyoTreat! TokyoTreat sends tasty Japanese snacks straight from Japan to your front door!

Fruit Sandwich Recipe
This recipe is easily adaptable to fit whatever materials you may have on hand, so check below for our tips on how to mix it up and personalize it. Fruit sandwiches are perfect for parties and great to encourage picky eaters to try some fresh fruit they've been putting off.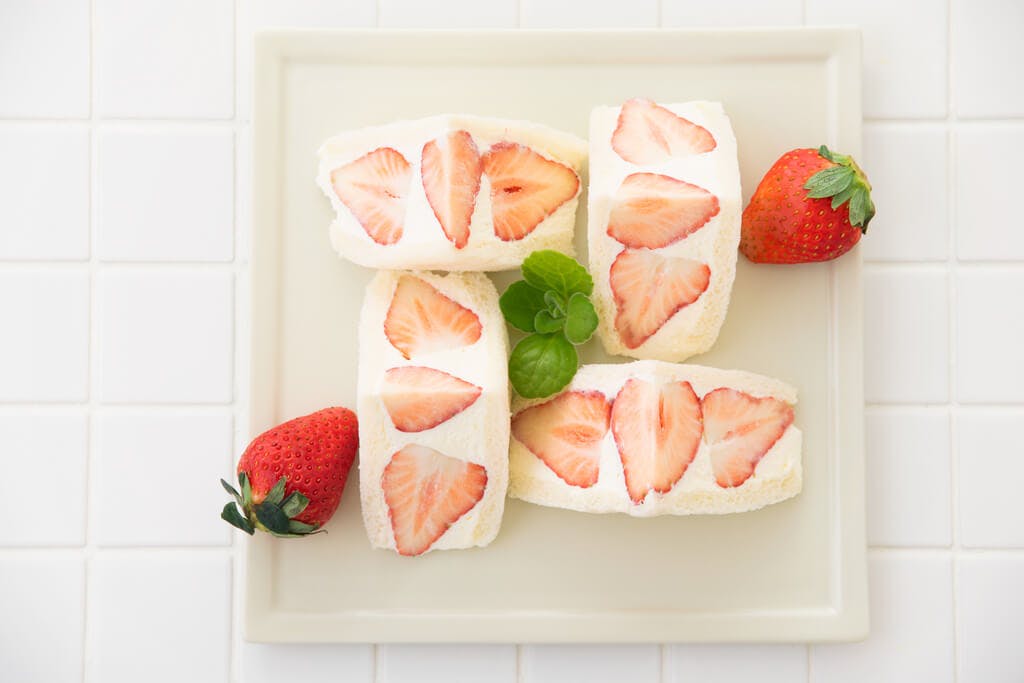 Image via Shutterstock
Strawberry Fruit Sandwich
This recipe is for a strawberry fruit sandwich but once you've got the hang of it you can mix and match, using different fruits and different bread. You can even try out different fruit combinations. Purple grapes and green grapes make a cool mix, as does strawberry and blueberry. 
A very impressive seasonal fruit sandwich can be made using whole tangerines, which make a beautiful flower shape when the sandwich is cut properly. Another idea is to peel kiwi fruit and use two or three whole kiwi fruit in the sandwich. 
For these sandwiches, the plastic wrapping is especially important, as well as the positioning of the fruit. You want to be careful to arrange the fruit so it makes a great cross-section when you cut it. These types look very impressive but can be the hardest to get right, so we really do recommend marking the plastic wrap for these. 
When done properly, they can be served as party snacks, wedding favors, or desserts for guests. A sandwich with a full mango inside really is special!
Ingredients (makes 1 sandwich)
Heavy Cream (or dairy free alternative).............. 2 tablespoons
Caster Sugar (or maple syrup/agave/honey…)... 1 tsp
Vanilla Extract…………………………………….... 1drop
Fluffy white bread/Japanese Milk Bread………… 2 slices
Six Strawberries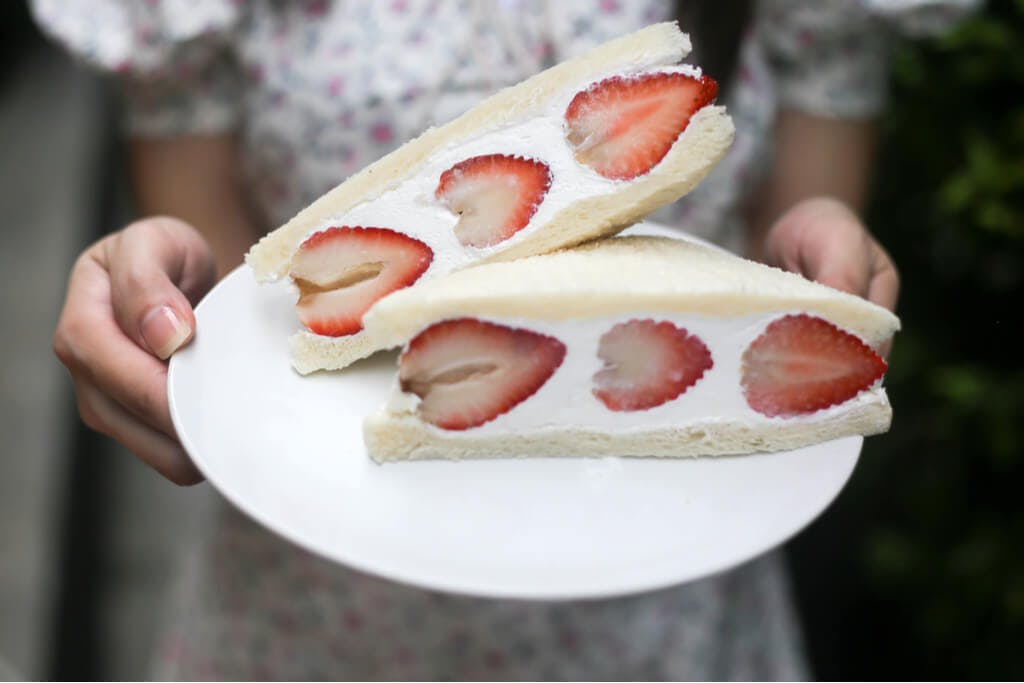 Image via Shutterstock
Method
Whip the heavy cream with the sweetener and vanilla extract until it stands up in peaks.
Spread the whipped cream onto the slices of bread. Make sure it is a nice, thick layer of whipped cream.
Line the strawberries along the middle and out to the edges of the sandwich. Make sure it can be cut in a way that the fruits will stay symmetrical. 
Wrap the sandwich in Saran wrap and pop it into the fridge to chill for at least 20 minutes. Mark the wrap so you don't forget where to cut to keep that symmetry.
Pop a kitchen knife (a sharp knife is best) into hot water to heat it slightly. 
Take the sandwich out of the fridge, cut the sandwich once with the knife. Dipping the knife into hot water as you go means that the cream won't stick to the sides, and the sandwich will keep the brightly colored Instagram effect.
Check the cut. How does it look? Make sure it looks perfect for any photos you may take.
Finish!
The fruit sandwich tastes best eaten when it's still chilled but will keep for up to two days in the fridge in plastic wrap.
Let us know how you did in the comments! What has been your favorite fruit combination?