From sweet potato popping candy on 'Trick with Treat' Halloween coffees, to green and purple chocolates and ghostly Hi-Chews; for Japanese candy lovers, Halloween is one of the biggest events of the year. All across Japan, chocolate brands such as Lotte and Kit Kat or candy brands such as Hi-Chew and Ramune attempt to out-halloween each other with the most tempting Japanese Halloween candy. 
Halloween in Japan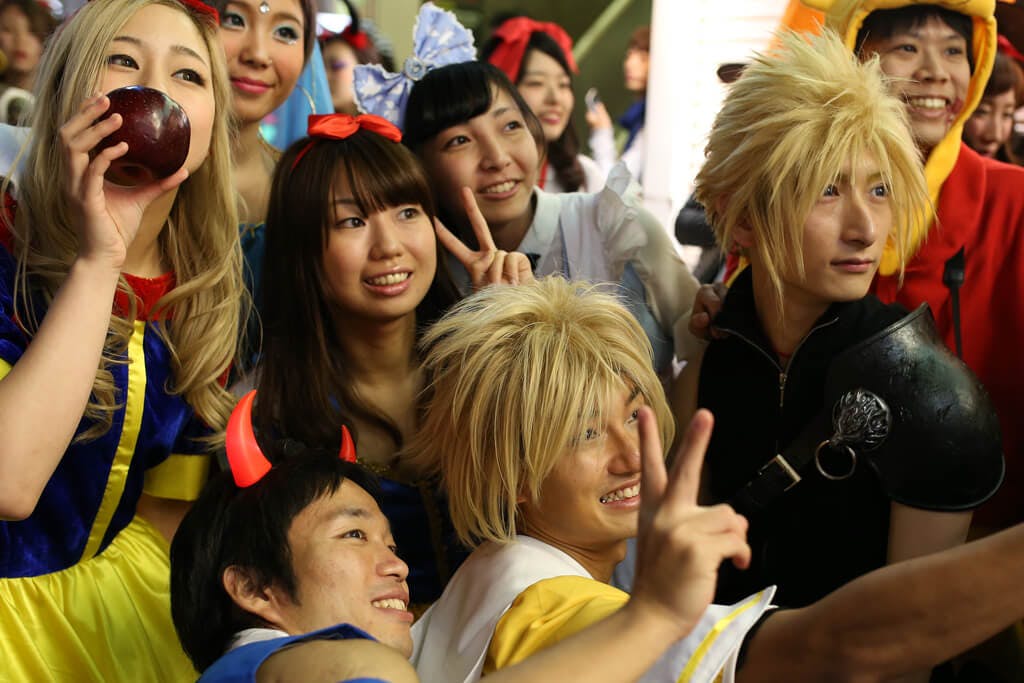 Halloween in Japan is a big occasion in the candy world. 
In the west, we have traditions dating back to the Pagan days, such as All Hallow's Eve on October 31st and All Saint's Day on November 1st. Both were designated holy days, and in particular, November 1st was claimed by the Pope as a day to celebrate all the saints - since as far back as the eighth century. 
But in Japan, where the main religions are Shinto and Buddhism, Halloween is simply a chance to dress up in fun costumes and go party. Japan doesn't traditionally celebrate Halloween, and customs like apple bobbing or even Trick-or-Treating don't happen. Japan is also known for its love of consumer marketing tactics (we're looking at you, KFC), so it celebrates  in its own way, which mainly includes dressing up and buying Halloween-themed goods (sometimes not together).
Even Willy Wonka couldn't rival the fantastical world of Japanese Halloween candy, so all you candy lovers are in for a treat.
Need more Japanese candy in your life for Halloween and beyond? TokyoTreat sends Japanese snacks and candy straight from Japan right to your door, perfect for any holiday, spooky or otherwise!

Seasonal Goods
Japanese people love to celebrate their hometowns and give thanks to local produce. As an island first and foremost, the population is accustomed to eating around the seasons: ume (Japanese plums), eggplant, and strawberries in spring; peaches, sea urchin, and edamame (boiled or steamed soybeans) in summer; pears, pumpkins, and sweet potatoes in fall; and daikon (Japanese white radish), cabbage, and apples in winter. 
Halloween falls in October, so naturally, the seasonal orange and purple vegetables and fruits lend themselves perfectly to the festivities. Orange fruits which are in season include: mikan (satsuma mandarins), persimmons, and chestnuts, so you can expect many Halloween-themed snacks in these flavors. 
As for orange vegetables, Japan has carrots. However, another exciting veggie is the purple sweet potato, one type of which is known as the 'Okinawa Sweet Potato.' Its deep, rich purple color perfectly matches the Halloween purple, so many companies put the purple sweet potato at the forefront of their Halloween-themed marketing. 
And of course, it's also delicious! The sweet, caramel flavor, accompanied by a traditional potato creaminess, renders it a well-loved vegetable. 
Halloween Chocolate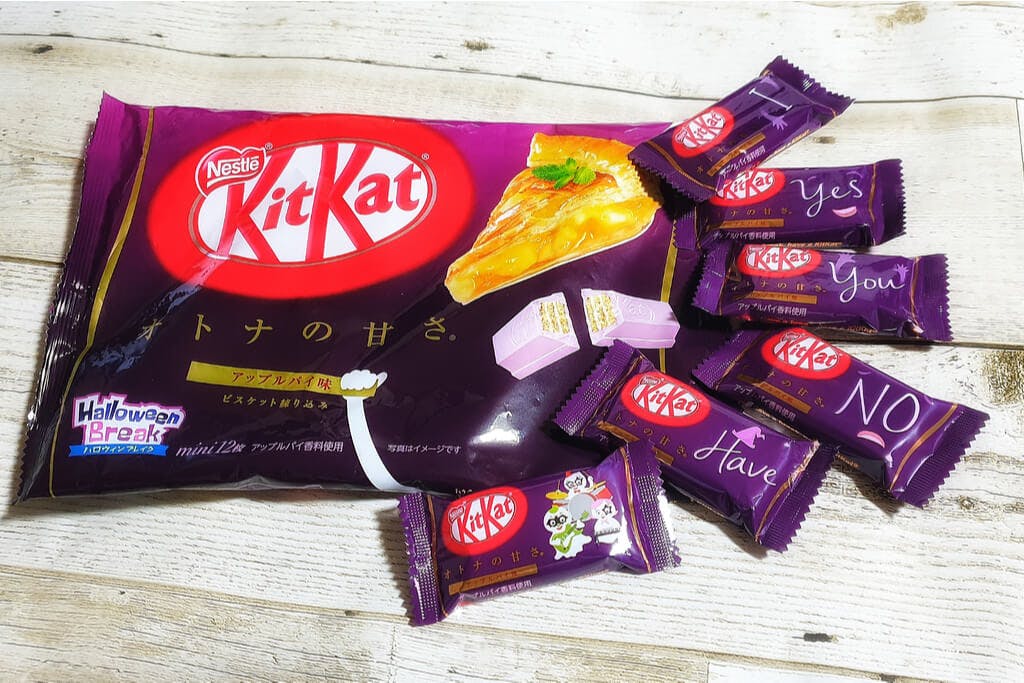 Image via Shutterstock
Halloween chocolate in Japan can't be discussed without at least a mention of Japanese Kit-Kats, which specialize in funky flavors and ever-changing varieties. Under the umbrella of the 'Halloween Break' series, Halloween Kit-Kats are an annual event to look forward to. With sweet 'haunted house' designs and cute ghosts peeping out of the lettering, the Halloween varieties are a sure-fire winner for all. 
Recent flavors include: apple pie flavor (otona no amasa or adult sweetness) featuring purple chocolate, 2021's pumpkin pudding flavor, and caramel flavors. And it's not just Kit-Kat. 
All the most popular Japanese chocolate brands, from Meiji (Japan's top-selling confectioner) to Black Thunder, produce their own Halloween-themed goods. 
Meiji 'Best 3' packets are adorned with black cats, jack-o-lanterns, and ghosts. They come in a variety of colors and designs perfect to delight the whole family, whether they're a dark chocolate lover or a white chocolate enthusiast. 
'Ghana', from Lotte, sees a similar formula as Meiji, with bumper packs featuring their most popular 'Crunky' chocolate complete with smiling jack-o-lanterns and their cute bear mascot dressed in Halloween attire.
Lotte also features its other brands, like their 'Koala's March' chocolate biscuits. These biscuits have their little Koala characters dressed in Halloween wear, are a delight to eat, and provide a surprise just by opening the packet. 
Even Black Thunder brings a bag full of individual chocolate bars, complete with little activities on the back. The Black Thunder designs are arguably the cutest and the most child-friendly, colorful, and attractive in equal measure. 
If you fancy something a little more special, many brands produce their own new ranges, such as the Godiva selection, which sees a glittery black cat introducing a wonderfully packed Halloween-themed chocolate box.  
If you have a little more to spend, check out the Bel-Amer collection with chocolate disks, biscuits, and cake-pops, each featuring their own Halloween scene! 
Halloween Snacks and Candies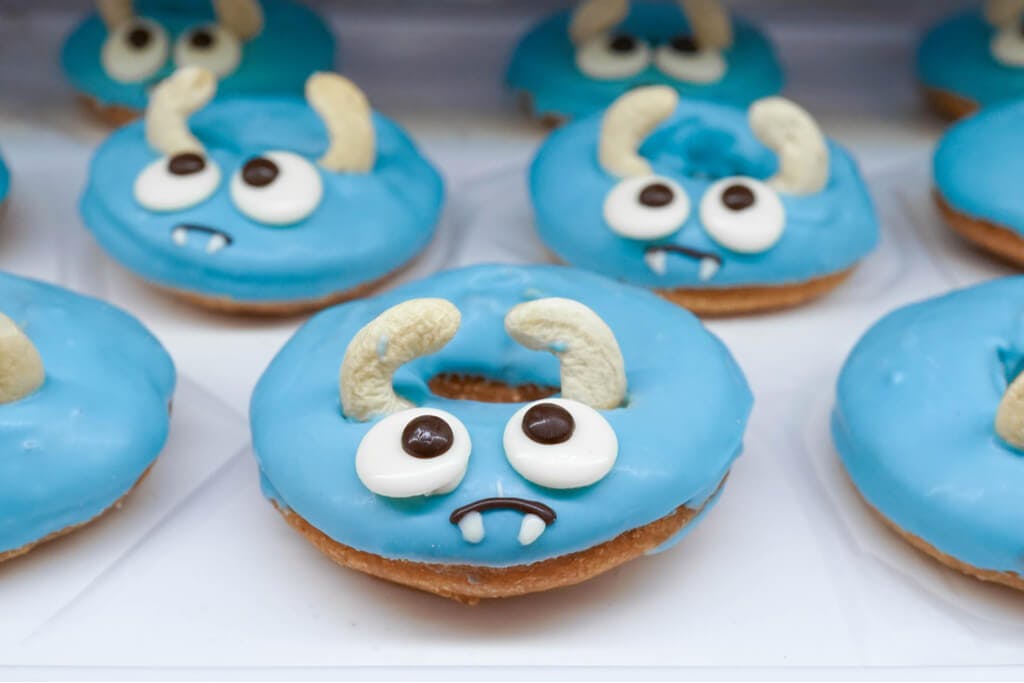 Image via Shutterstock
Elsewhere, Japanese donuts bring out their own Halloween collections, and even macaron sellers have varieties of black and orange macarons. 
Head over to a Krispy Kreme, Mister Donut, or local donut shop, and you'll be able to grab donuts in a variety of fun designs, including sparkly ghosts, bright jack-o-lanterns, and more. 
Bakers have black curry bread, and gummy candy sees all sorts of Halloween shapes! We're talking brains, skulls, and even coffins. Even the chewy Hi-chew candies see a make-over with their individually wrapped selections taking on spooky ghosts, and the popular milk-ball confection having an influx of black cats on its packaging. 
If you want to celebrate Halloween from the comfort of your home, or even if you just love Halloween candy, check out Japan's Halloween candy selections for a spooky time!