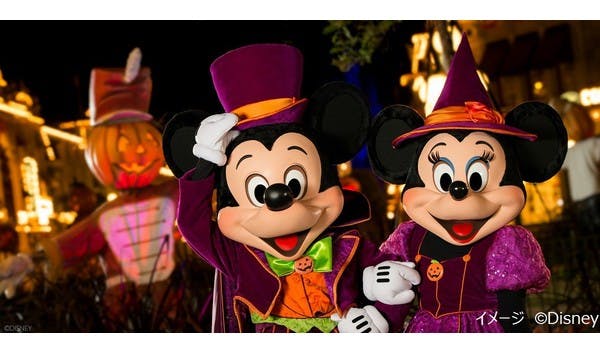 It's never too early for Halloween-related posts is it? Times passes quickly! Do you remember last year's post about creepy fast food? This week Tokyo Disneyland revealed their Halloween 2018 menu and everything looks spookylicious! Halloween in Tokyo is huge: People from all corners of the world dress up in cute, crazy and most of all: scary costumes and wander the streets of Shibuya. Tokyo Disneyland is at least as crowded with visitors looking for spooky entertainment!
For this year's Halloween, five different restaurants located in Tokyo Disneyland have created their own special Halloween menus inspired by your favorite Disney Characters with a little bit of creepiness!
1. Sweetheart Café Disney Halloween 2018 special set.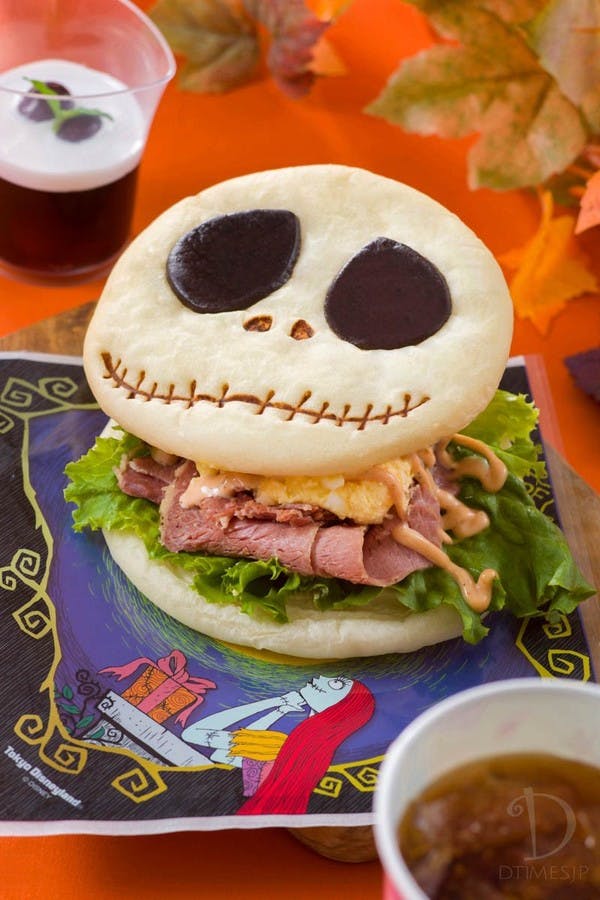 Nightmare before Christmas is by far Disney's most spooky movie, therefore it is a must-have on Disney's Halloween menu. This Jack Skellington Pastrami and egg sandwich looks absolutely delicious! A very cute detail is the plate itself. Did you notice how Jack's lover Sally is staring at him? This set also includes deep purple grape jelly and a drink of choice.
Price: 1,050円
Restaurant: Sweetheart Café
2. Huey, Dewey and Louie Good Time café Disney Halloween 2018 special set.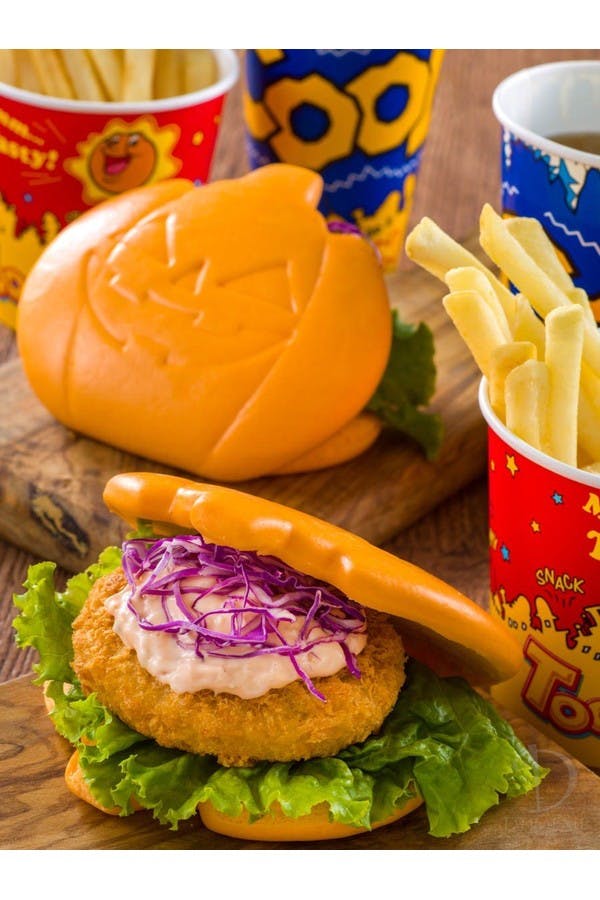 Fresh lettuce, a crispy scallop cream croquette topped with sauce and red onions, orange pumpkin-shaped buns...this sounds like the perfect creepy burger! Disney recommends the Thousand Island dressing for this set. This set comes with French fries and a drink of choice.
Price: 990円
Restaurant: Huey, Dewey and Louie Good Time Café
3. Plazma Rays diner Disney Halloween 2018 special set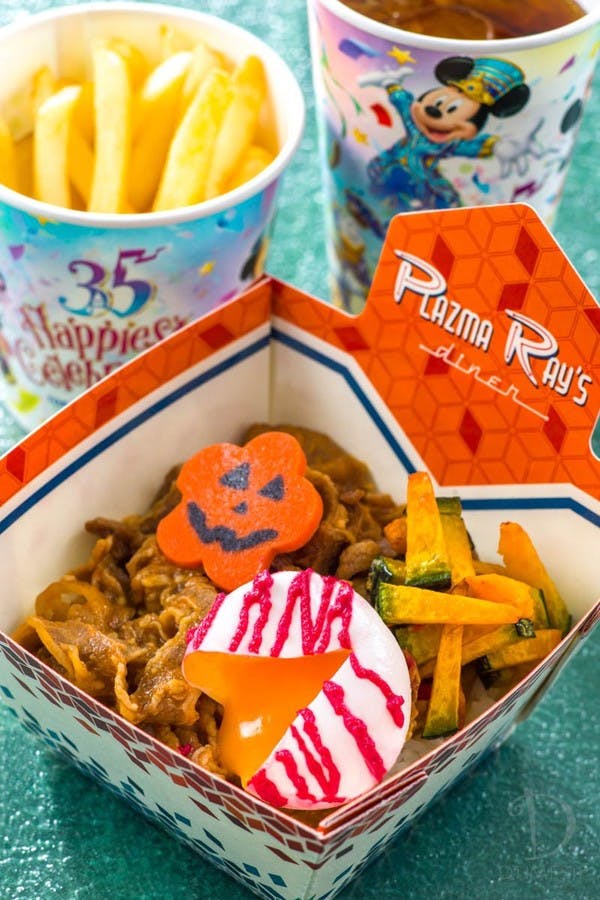 Gyudon or beef bowl is a classic Japanese dish using thinly sliced beef on top of fluffy Japanese rice. This beef bowl topped with a Jack O' lantern-faced carrot, slices of pumpkin and a bloody-looking egg is the creepiest I have seen so far! The set allows you to choose between a salad and French fries and comes with a free drink of choice.
Price: 1,160円
Restaurant: Plazma rays diner.
4. Camp Woodchuck's Kitchen Disney Halloween 2018 special set.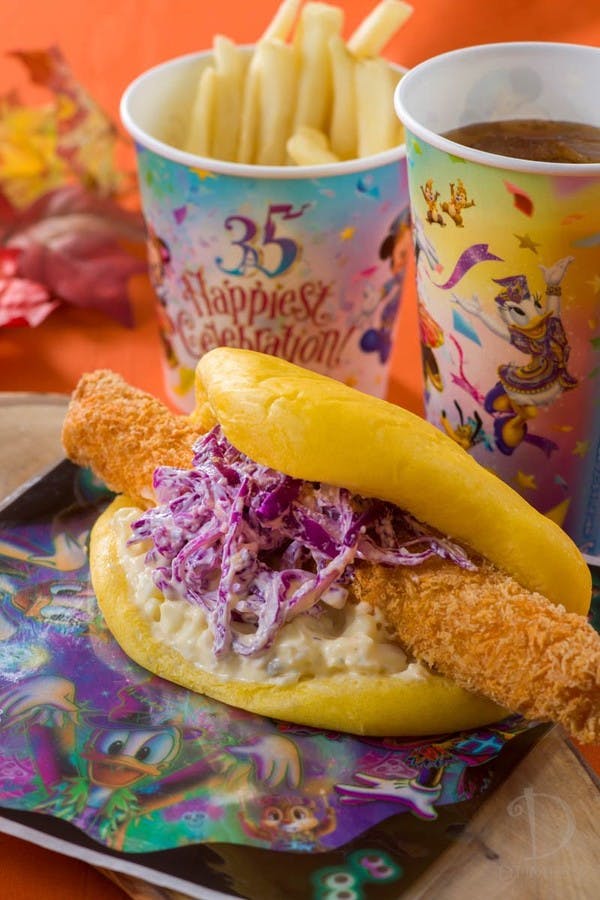 The fourth item on the menu is this yellow sandwich. If you look closely you realize that the yellow buns look a lot like Donald Duck's beak! But what does he have in his beak? It's a huge fried prawn, yum! This combination looks very delicious.
Price: 1,080円
Restaurant: Camp Woodchuck's Kitchen
5. Plaza Pavillion Restaurant Disney Halloween 2018 special set.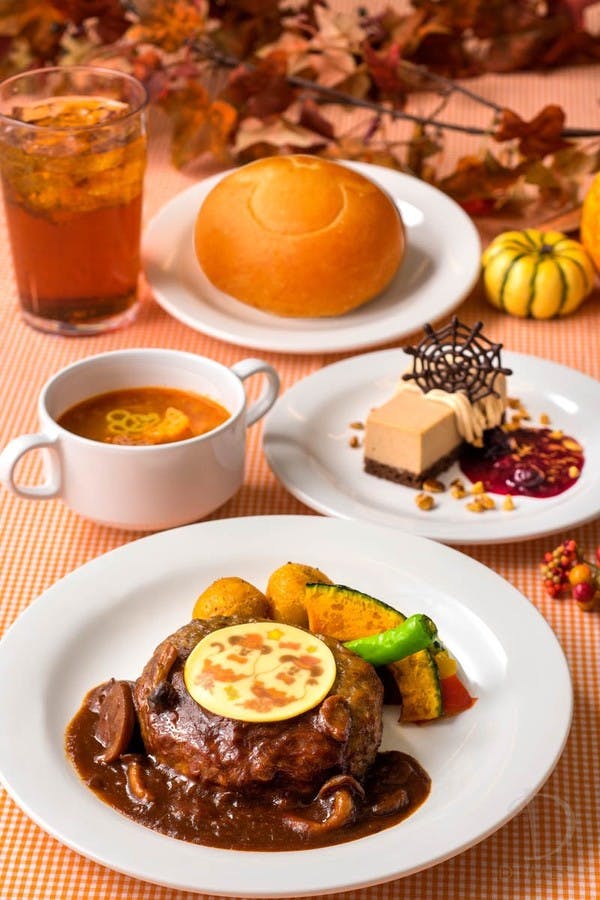 Last but not least on the menu is this luxurious set. The starter is a delicious vegetable and bacon tomato soup with character-shaped macaroni. Next is the main dish: a Japanese-style hamburger steak topped with mushroom demiglace sauce with adorable Mickey and Minnie Mouse decoration. The bread that comes with the set would taste great when dipped in the demiglace sauce. For dessert there's a spooky spiderweb rice marron mouse cake and of course this set comes with one drink of choice!
Price: 1,940円
Restaurant: Plaza Pavilion Restaurant
In addition, Sweetheart Café and Huey Dewey and Louie Good time Café have a special promotion. Order a Halloween Special set and receive this adorable Disney lunch bag for only 1,000円 extra!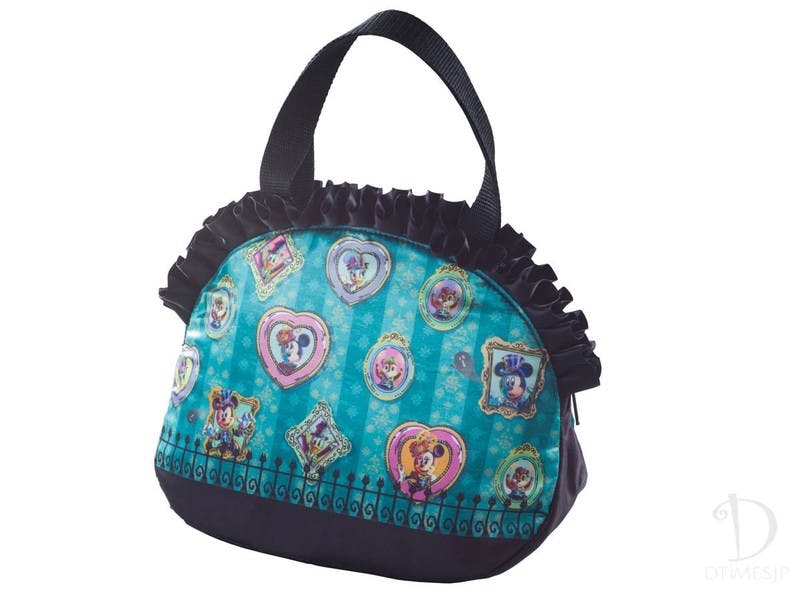 I hope you enjoyed the introduction of this year's Halloween menu, only available at Tokyo Disneyland. Every year people from all over the world come to Tokyo to join in the Halloween craziness. If you ever have a chance, I recommend you to visit Tokyo Disneyland during the most spooky time of year and try a delicious Halloween-themed dish.
Which of these Halloween special sets would you like to try most? Let us know in the comments!
Keep up with all the fun news coming out from Japan by following us on Facebook, Twitter, and Instagram!
Want a free Japan box? Make sure to check out how to get one here!