While, traditionally, summer is the time for spookiness in Japan, in recent years, there has been a surge in Halloween events so Halloween celebrations in Japan are now rife. While there's no trick or treating, there are plenty of alternative ways to celebrate Halloween. 
So how is Halloween celebrated in Japan? We've detailed some of the most fun and popular Halloween traditions you can find in the Japanese capital and beyond. 
Halloween Events
Halloween Street Parties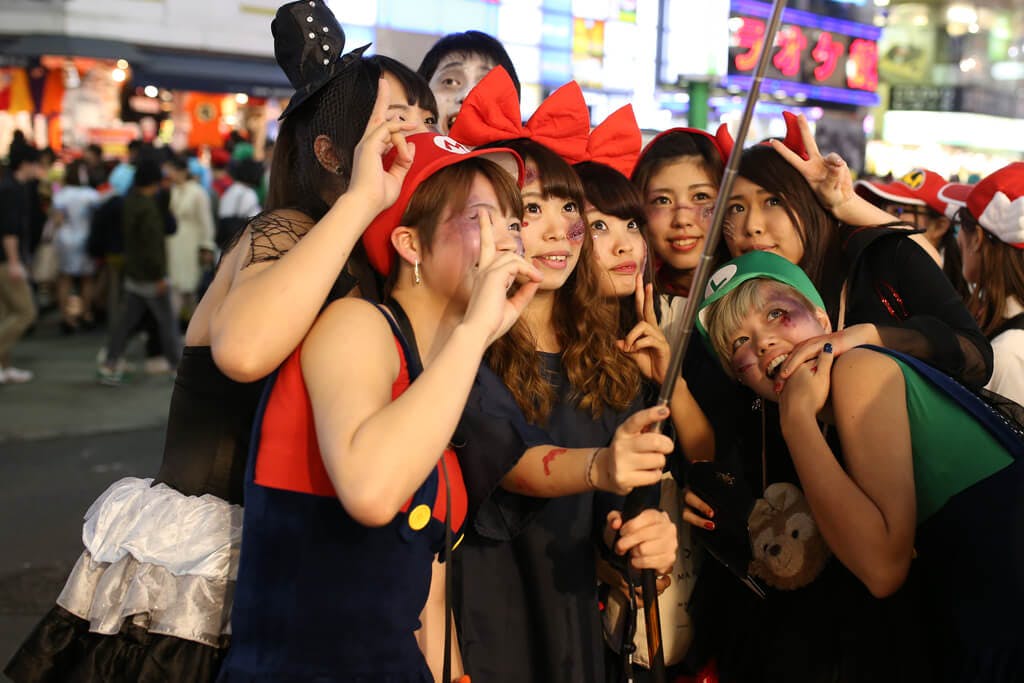 Image via Shutterstock
When the sun goes down, popular inner-city areas such as Shibuya, Roppongi (Tokyo) and Shinsaibashi (Osaka) come alive with costumed party goers. It's no secret that Japanese people love to dress up, so when it comes to Halloween, partygoers go all out to outdo each other with the funkiest, most elaborate Halloween costumes. 
If you're in Japan around Halloween, a quick search for 'Halloween Street Party' or even 'Halloween Parade' will bring up the best places to go in your area. The best thing about the street parties is that anyone can attend, and it's a fantastic way to soak up that Halloween spirit while enjoying crazy Halloween costume ideas come to life. In fact, these events have really only increased in popularity in Japan.
For first timers, the sheer amount of people can be an overwhelming experience so take it slowly. Revelers dress up in groups with friends and walk around the streets costume-spotting. People go around taking pictures with other costumed groups and chatting about costumes while drinking Strong Zero. 
Don't be shy to approach wearers of some of your favorite costumes to ask for a snap. The amount of selfies taken on Halloween is probably the same as an entire year's worth!
With the latest restrictions around the world, Japan is catching up too, and this year many popular spots have announced a virtual addition too. This is a great tip for anyone who wants to get involved from the comfort of their home.
Looking for some treats for the spooky season (and after)? TokyoTreat sends Japanese snacks and treats like Kit Kats and Pocky right to your door, perfect for any season (spooky or not).

Halloween Clubbing
Clubbing in Japan on Halloween can be very fun. Much like abroad, on the night of Halloween many clubs run special promotions, offering discounted entry for costumed entrees. Many people head out clubbing after attending a Halloween street party in a central area, complete with their costumes for that discount! 
Once inside clubbers will find impressive decorations, and DJs may be playing spooky versions of club anthems so lucky clubbers may even be treated to a version of 'Monster Mash.'
Some clubs will go all out with a theme such as zombies, or something more niche like a particular Halloween-related movie. Thanks to Japanese meticulous attention to detail, club goers will enjoy spotting variations on the theme all over the club. Some places even offer Halloween-themed cocktails and snacks. Look out for green zombies, gummy skulls, and even single fingers sticking out of the top of glasses!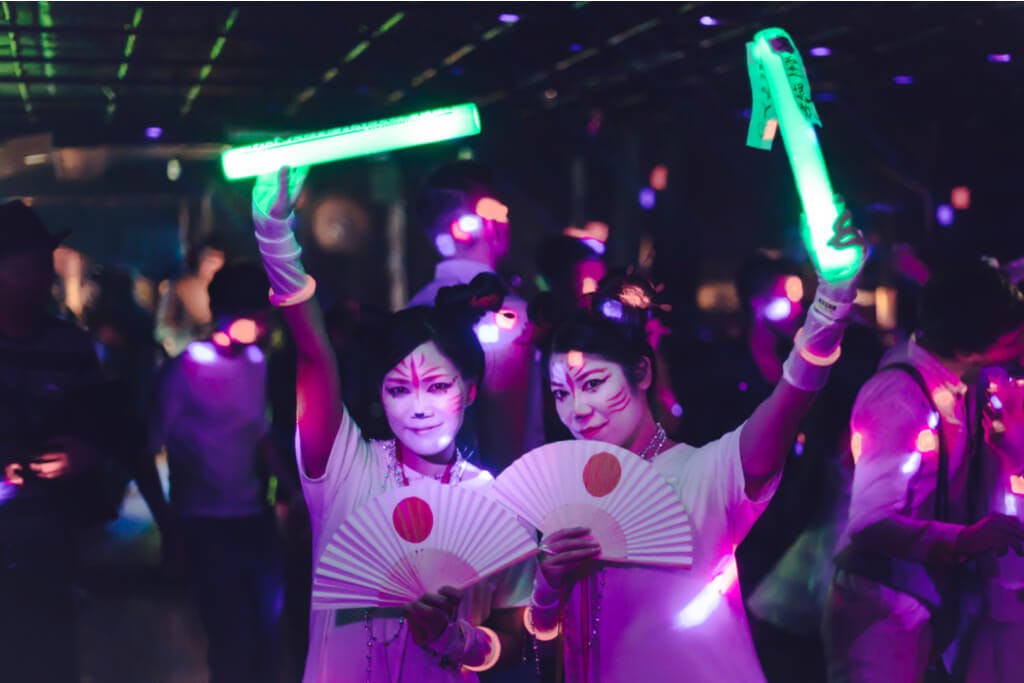 Image via Shutterstock
Halloween Theme Parks
Many theme parks across Japan celebrate Halloween too. For an entire Halloween period - from the start of September, right until the 31st October - parks will have Halloween-related activities going on. From characters in costume to special nighttime openings and haunted houses, Halloween at a theme park has something for all the family. 
Tokyo Disneyland holds their famous Halloween Parade on October 31st, complete with a different theme every year. Park goers can dress up and head around the park together, comparing costumes and getting into character. Other theme parks, such as Universal Studios Japan in Osaka and Japanese favorite Sanrio Puroland, go all out too. 
Honestly, any of the best amusement parks in Tokyo or nationwide will do something special for Halloween. With decorations, new characters, special souvenirs, and even spooky background music, theme parks really love to harness the festive Halloween spirit!
Eating Out on Halloween
Whether by yourself, with a loved one, or with friends, don't miss out on Halloween at restaurants! Many places offer highly decorated versions of their usual fare - we're talking skeleton omu-rice (omelette rice), witchy pancakes, black Japanese-style curry, and more. 
There are lots of cafes around Japan that are spooky all year round, such as prison cafes where diners are handcuffed by 'officers' and led to cells before being locked up behind bars to begin their meals. Others include vampire cafes, where vampire staff serve various spooky foods including eyeballs and plates resplendent with blood and 'bones.'
Halloween Products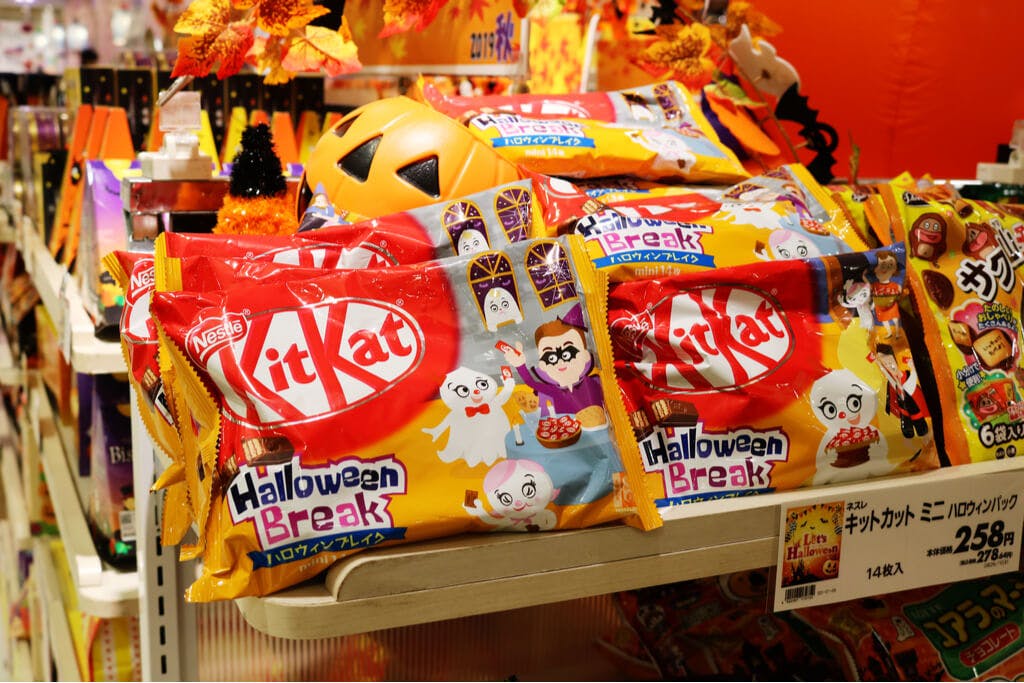 Image via Shutterstock
Japan is famous for their love of limited-time products, and what better time to cash in than on Halloween? You guessed it - special edition Halloween goods.
Another bonus to being in Japan around Halloween time is the sheer amount of special goods and limited editions that you can buy. In convenience stores, you will find spooky versions of popular snacks including black (chocolate) cream daifuku (Japanese rice cake-wrapped treats), pumpkin flavored drinks, or even black and orange burritos.
Convenience stores' own product lines often go all out, and you'll find Family Mart competing against 7-Eleven to see which can create the most Halloween-themed goods. Family Mart excels at pumpkin-flavored danishes while 7-Eleven's black chocolate desserts are to die for. 
Not to forget… Starbucks! There are already plenty of Japanese Starbucks seasonal drinks year round, so of course, Starbucks is a must when it comes to Halloween time in Japan. Every year they pull out all the stops and each year seems to top the last. 
Previous offerings have included: 'Halloween Witch' complete with red 'blood' and black apple compote, and 'Treat with Trick' that harnesses Japan's love of the sweet potato into an oozing purple sauce complete with popping candy for those unsuspecting slurpers. Watch out!
Let us know what you like about Halloween in Japan in the comments below.