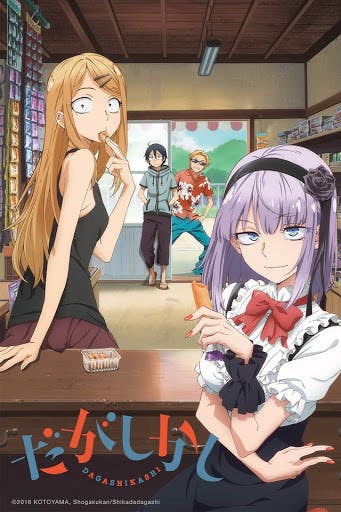 Dagashi Kashi is an anime series that takes you behind the curtain of Japan's weird and wonderful world of snacks! The story focuses on Shikada Dagashi, a sweet shop in the Japanese countryside that sells dagashi, small and affordable Japanese snacks and candy. Shikada Dagashi has been run by the Shikada family for eight generations, but the ninth in line, Kokonotsu Shikada, would rather be a manga artist than sell dagashi. 
One day, cute, eccentric dagashi-enthusiast Hotaru Shidare shows up with an offer of employment for Kokonotsu's father Yo at her family's confectionary company. Yo agrees on the condition that Kokonotsu takes over the family business, and so Hotaru embarks on a quest to convince Kokonatsu of the importance of dagashi.
Once commonplace in Japan, in recent years, specialty dagashi shops have largely been eclipsed by convenience stores and websites selling Japanese snacks online. With its loving exploration of old-school Japanese candy, Dagashi Kashi will bring back memories for those already familiar with these treats. Don't know your Baby Star Ramen from your Watapachi? Don't despair! Dagashi Kashi is a great way to discover these snacks for the first time—just read on for a guide to 10 of the most popular Japanese snacks in Dagashi Kashi! 
1. Umaibo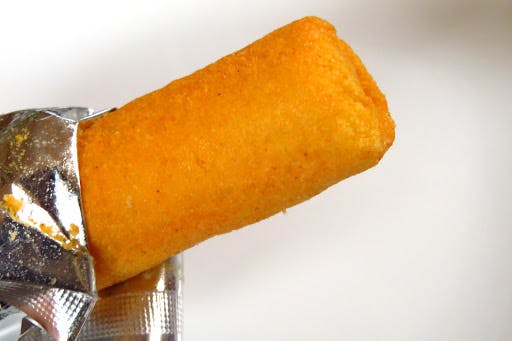 In the first episode of Dagashi Kashi, Hotaru describes these as "the king of dagashi," and it's hard to argue with her reasoning! These big, puffed corn sticks are truly the ultimate dagashi snack: fun, flavorful, affordable, and addicting. In particular, Hotaru admires their versatility and variety, allowing you to satisfy unusual food cravings by simply combining their many flavors. 
Declaring Kokonotsu her rival, Hotaru challenges him to create the best combination of Umaibo, and after a few false starts, Kokonotsu impresses her with the "Italian Mood Combo," which combines pizza, onion salad, and corn potage Umaibo to conjure up the feeling of Italy.
2. Young Donuts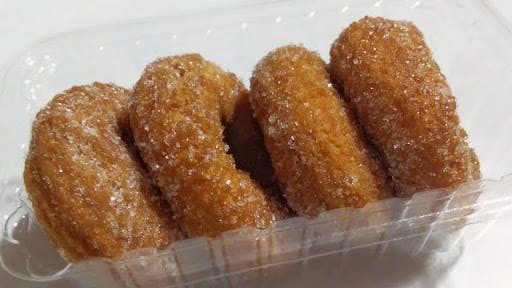 These small, bite-sized donuts actually taste quite different from their Western counterparts! Softer and doughier, Young Donuts have the texture of cake and are coated in a fine layer of sugar. As Hotaru says in the first episode of Dagashi Kashi, this makes them a great afternoon snack when you're low on energy, and their soft, crumbly texture makes them a perfect pair with coffee. 
3. Baby Star Ramen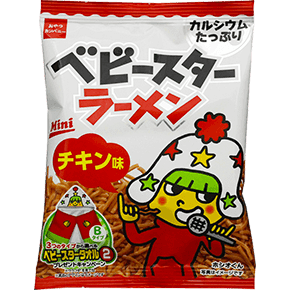 This popular Japanese snack is featured in the fifth episode of Dagashi Kashi, when Kokonotsu wakes up to find his father recording food vlogs in the middle of the night. When Yo flounders in describing Baby Star Ramen, Kokonotsu rises to the occasion with an account of the snack's origins and mascots' histories. As he explains, Baby Star Ramen is made from the crumbs leftover from drying ramen in the sun while making instant ramen. The end result is a cheap but delicious, satisfying snack food with a wide variety of flavorings similar to potato chips.
A little far from your nearest dagashi shop? Subscribing to TokyoTreat is a perfect way to discover Japanese snacks! From seasonal Kit Kats to Kinoko no Yama, TokyoTreat will deliver authentic Japanese dagashi straight to your door!

4. Glico Caramels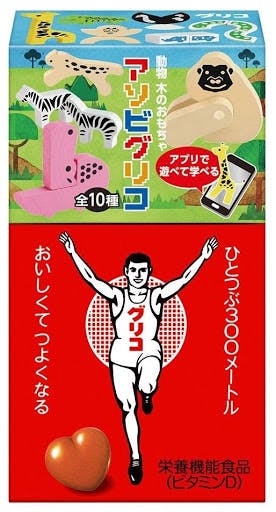 You might recognize the logo for these caramels as the "Glico Running Man"—one of the most famous landmarks in Osaka's downtown area of Dotonbori. These chewy, heart-shaped caramels are also famous for their motto, which claims that you get enough energy from each caramel to run 300 meters. In episode 4, Hotaru and Kokonatsu decide to test out this motto by racing back to Shikada Dagashi fueled entirely by these treats!
5. Watapachi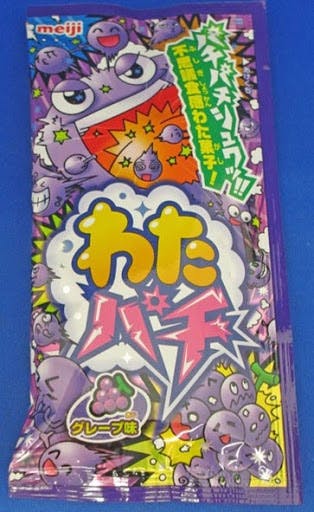 Watapachi doesn't make an appearance until episode 9 of the anime, but it shows up with a bang! This Japanese dagashi resembles cotton candy, but with the shocking surprise of popping candy concealed inside. Even suffering from a mouth ulcer, dagashi-crazy Hotaru can't resist eating a bag of Watapachi—and doesn't regret it for a second.
6. Bo-Kinako Ataru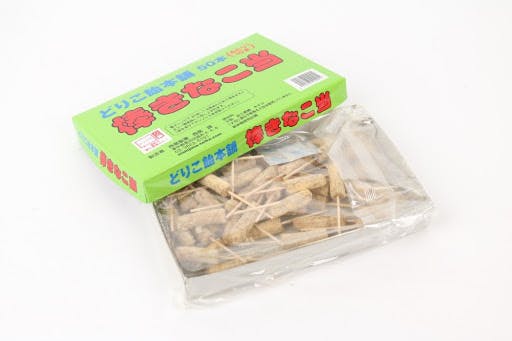 In episode 2, Hotaru describes Bo-Kinako Ataru as the lone wolf of the dagashi industry, and she has a point. Also called Kinako-Bo, this deceptively plain-looking candy, coated in roasted soybean flour and sold on a stick, is easy to overlook amidst the colorful packaging of other dagashi. But Hotaru neglects to mention the very best part of Kinako-Bo (aside from the taste): after eating it, if the tip of the stick is red, you get another one for free!
7. Fue Ramune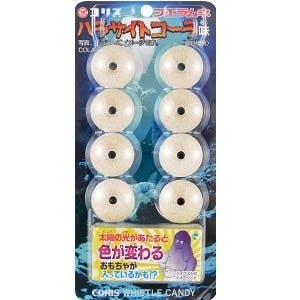 You've probably heard of Ramune, the Japanese lemonade drink served in an iconic blue bottle with a marble seal, but what about Fue Ramune? Also in episode 2, Hotaru shows off her whistling skills while snacking, blowing through the hole of a round candy she's eating to produce a high-pitched sound. These candies are called Fue Ramune (whistle ramune), and they come in a variety of flavors including, of course, the lemonade flavor of Ramune!
8. Bin Ramune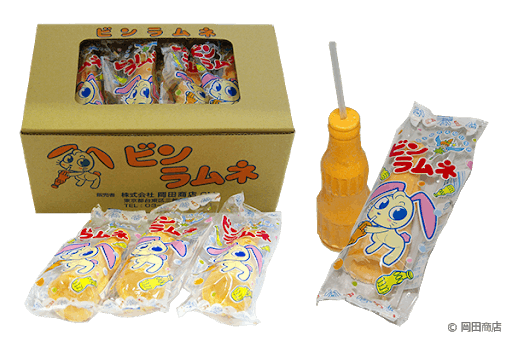 In the fifth episode of Dagashi Kashi, we're introduced to yet another version of Ramune: Bin Ramune. Bin Ramune is a wafer shaped like a small bottle and containing Ramune flavored powder that can be drunk through a straw. Just like the drink, Bin Ramune makes for a good summer snack, and—as Kokonotsu's father demonstrates—is much easier to dispose of: after finishing the powder, just eat the bottle!
9. Potato Fry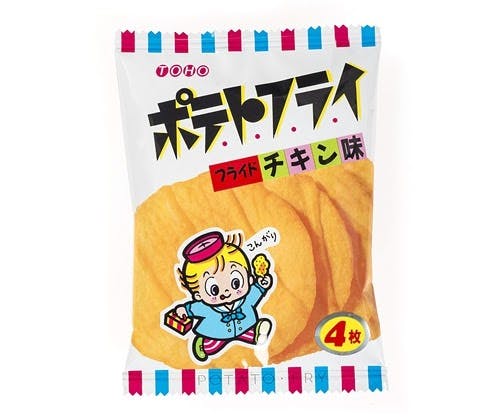 Despite the name, Potato Fry are actually big crackers made of flour and shaped like potato chips. They come in a variety of flavors like spicy chicken, corn potage, and teriyaki burger. In a silly, suggestive scene of the first episode, Hotaru confesses her love by pointing at Kokonotsu—but it turns out she's actually pointing at the bag of Potato Fry he's holding, declaring her love for the mascot on the packet!
10. Suppai Grape

The full name of this dagashi is actually "Suppai budou ni goyoujin"—watch out for the sour grape! A real roulette wheel of a snack, Suppai Grape is a packet of three grape chewing gum balls where one has an incredibly sour center. In episode 5, Hotaru challenges Kokonotsu to a game with Suppai Grape: if he gets the sour one, he'll agree to inherit the family business; if she does, she'll do anything he asks her to. Needless to say, things don't go according to plan!
With its fun, zany episodes centered on Japanese snack culture, the anime Dagashi Kashi is unmissable for any fan of Japanese food! Available on DVD Blu-ray, the series is a great way to whet your appetite for Japanese candy, showcasing the very best of Japanese dagashi over two twelve-episode seasons. Our only advice? Don't watch it when you're hungry—or if you do, be prepared for snacking!